BEWARE, STATE OF EMERGENCY!!! IT IS TIME FOR CAMEROONIANS OF THE LOWER CLASS IN THE TEN REGIONS TO UNDERSTAND THAT CAMEROON IS NOT ONLY IN A SOCIO-POLITICAL CRISIS WHICH MAKES THE BLOOD OF CHILDREN TO FLOW IN THE SOUTH WEST AND NORTH WEST REGIONS; BUT THE ENTIRE COUNTRY IS IN THE CRISIS OF BAD GOVERNANCE WHICH SPARES NO REGION AND DOMAIN OF ACTIVITY
It is the 576th message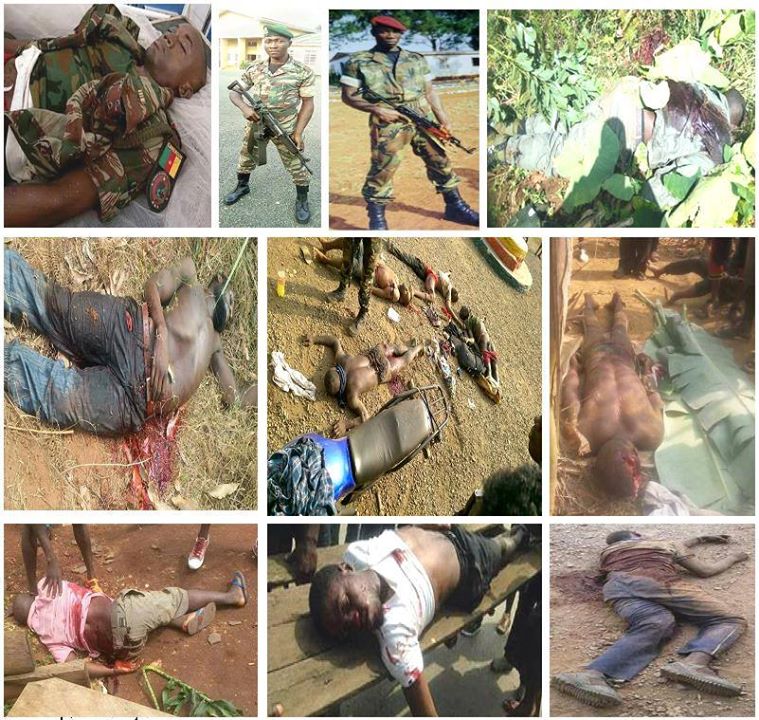 In truth, I am neither a politician nor member of the ruling party or opposition party, nor someone who is manipulated by men, but I am an advocate of the truth of the creator. Neither money nor the weapon do not influence the word of truth of the creator that I carry in me, the word which is not advocate of a continent, skin colour, language, tribe or blood. I do not write nor speak to please the men or to make myself enemies, but I do it to help them whether they like it or not. I remember that I wrote a message concerning the French country few years ago. In this message, I demonstrated to the men what kind of teaching this nation that says to be the father of many African countries gives to the Africans when she adopt a law which legalises the homosexual marriage, and that these mayors who wear the scarf having the colours of the flag of this country during the celebration of the union of people of the same sex, is a defile against the French flag; this abominable practice which is authorised by the French country has immersed all the people in a state of Sodom and Gomorrah. In this message I asked all those who have voted this law the question to know: if their father got married to another man or their mother to another woman, how would they be born? A former French president whom I prefer not to mention his name read this message and contacted me. He let me know that my writings are a great danger for the entire world and that he want to know the spirit that I posses and which brings me to write these messages.
I am writing this message on the 24th April 2018. I am seeing Cameroon immersed in a socio-political crisis which makes the blood of his children to flow in the North West and South West regions without a veritable solution taken till now. This situation makes me cry and makes my heart to feel bitter, for I see the entire Cameroon in deep crisis which is the bad governance, and it touches all the domains of activity. Dead bodies both in the civilian part and the army are picked up in the South west and North West regions of Cameroon like mangoes that are falling from a mango tree due to a strong wind which has blown. In truth, the people of the lower class in the ten regions of Cameroon must wake up from their sleep to understand that the country is not only in socio-political crises that cause many material loss as well as human life in the North west and South west regions of the country, but the entire nation is in crisis of bad governance that spares no region or domain of activity.
Let the eyes of all Cameroonians coming from the North West and South West regions of Cameroon become open in order to see that their brothers and sisters both civilians and soldiers who are killed will no longer come back, and that any nomination or material given will never replace these people who were their family members and dear to them. They should also understand that if the men of Etoudi were sensible to the blood of Cameroonians which is shed by other Cameroonians, after the announcement of lost in human lives in these claims, they would have gone down on these places to stop this destruction; but this keeps going on and it is about two years now that soldiers and civilians kill each other, certain administrative authorities are kidnapped, a great number of the population move to Nigeria to find refuge, certain schools, brigades, houses... are burnt.
The president of Cameroon would have not only been sensible to this situation, but he would have also been covered with shame! Because he would have said to himself that the entire world will discover that his beautiful country which is Cameroon and which has been so long praised as a welcoming land, land of hospitality and of peace, a bilingual and multicultural land which is called to bring in many investors to contribute in his economic development is losing his reputation on the face of the world. In truth, if President Paul Biya has sent many delegations in these regions up to the prime minister without any definite solution being found out, he would have drawn a lesson from this.
In truth, as a Christian and old seminarian, president Paul Biya would have understood that if Jesus Christ who is the king of glory left heaven to come on earth to talk to the men who were in crisis of eternal life, liberty and peace in their souls to bring them eternal life, liberty, and peace that their souls needed through dialogue, exhortation, teaching, how more of a man like him will not do it today? He who governs these two regions in crisis will not go down in these localities where sons of his country die every day? In truth, president Paul Biya as the father of the nation was to say to himself that his children who are in the South West and North West regions do not need other men to calm them down, if not he who is their father; he had to go there and call all the children of these two regions who are administrative, religious, traditional, political... authorities so that together, in a just and equal dialogue, they should look at the clauses that were established in the past in the conference of Foumban and put them into application, particularly to watch on the effectiveness of equal teaching of the two languages of the colonial masters in Cameroon that are French and English.
In truth, the complaints and claims of Cameroonians of the North West and South West regions is not worth of human beings that are killed every day. But I tell to the people who claim in these two regions to open their eyes to see that it is the lower class that suffers, it is fathers and mothers of families that are killed both on the civilian side and the army, leaving a great absence in families. It is the absence of dialogue between the head of state and secessionist forces that lead to such bloodshed, all this being the result of bad governance.
In truth, I have never seen a government like Cameroon which lacks justice and pity, which maltreat the population and plunder their natural resources; empty cash boxes of the state to go and keep this money abroad for personal ends. We have to know that almost all the leaders of this nation have double nationality. For example, some are citizens of Switzerland, France, the United States... In a spirit of dishonesty, to protect themselves against prosecution after their functions, they adopt the posture of European or American citizen. These leaders with double nationality possess a spirit that push them to act as if their mothers are Cameroonians and their fathers Westerners; therefore, when they are still in function in Cameroon, they are in their maternal uncles' home to steal everything and to carry it to their father's home, and they do not have any feeling in their uncles' countries. In Cameroon, the law of declaration of personal goods is useless because from the biggest to the least of these leaders, they all steal very big amounts of money to the profit of foreign countries. In truth, if the goods that are embezzled by Cameroonian ministers were not nourishing their ambitions to ascend in power or in Etoudi, would president Paul Biya not worry in reality about the embezzlement of these public funds? But he knows that he is the master of this embezzlement, and that what these leaders do is a model of his own ruling system of the country.
All ministers in Cameroon are billionaires meanwhile a minister of state of this country earns 794 651 CFA Francs as salary, a simple minister has 679 287 CFA Francs as salary, a vice minister or secretary of state has 583 228 CFA francs as salary. Therefore, how does it happen to be found with billions in cash in their personal bank accounts, without counting what they have as investment? They are all thieves and they mock at the lower class population, that is why in Cameroon, an entire government is found in prison, and you will find that those who are in function or who are free have stolen money more than those who are in jail. In Cameroon, the former prime minister, head of government INONI Ephraim is in prison, condemned to 20 years of imprisonment, the former minister of state and secretary general in the presidency of the republic Jean Marie ATANGANA MEBARA is in prison for 25 years. The former minister of territorial administration and of decentralisation MARAFA HAMIDOU YAYA is imprisoned for 20 years, the former minister of economy and finances Polycarpe ABAH ABAH is imprisoned for 25 years, the former minister of public health Urbain OLANGUENA AWONO is imprisoned for 20years.
The same with the former director general of the autonomous port of Douala and former minister of water and energy Alphonse SIYAM SIWE is imprisoned for life, the former administrator and director general of CAMAIR, Yves Michel FOTSO is also imprisoned for life. The former director general of FEICOM, Emmanuel Gerald ONDO NDONG is imprisoned for 30years, the former director general of shipyard and industry of Cameroon Zachareus FORJIDAM is imprisoned for life, the former director general of SODECOTON, IYA MOHAMED is imprisoned for 15 years, the former general director of the real estate company of Cameroon Giles Roger BELINGA is imprisoned for 20 years, the former director general of airports of Cameroon Roger NTONGO ONGUENE imprisoned for 30 years, without forgetting the two former directors of CRTV, Gervais MENDO ZE and AMADOU VAMOULKE as well as secretaries of state, regional delegates, university chancellors, prefects and sub prefects, mayors are in prison for embezzlement of public funds.
Some of these men died in prison, like the former mister of finances BOOTO A NGON, the former director of telecommunications to the ministry of post and telecommunications Dieudonné ANGOULA, the former secretary of state of secondary education Catherine ABENA, the former minister delegate in charge of the budget to the ministry of economy and finances Henri ENGOULOU, the former ambassador of Cameroon in the United states Gerome MENDOUGA... died in prison. Other ones flee from the country such as the former general director of the autonomous ports of Douala Jean Marcel Dayas MOUNOUME imprisoned for 15 years, Arsene NKOU imprisoned for 25 years, Lazare ESSIMI MENYE... we equally have hundreds of people who have abandoned their functions and who live in liberty, but who are all prisoners because they have stolen in cash boxes of the state.
They have raised and rooted corruption in Cameroon up to the point where nominations and allocations are done not on the bases of merit, but on bribery, the belonging to the same lobbies... it is also the same with grades in the army, the admission in big entry examinations of the state. As such, corruption, mediocrity, unconsciousness, easiness... have taken over on merit, performance, loyalty... Beside this, Cameroonian leaders have privatised majority of state companies without regret. It is ridiculous to hear that Cameroon has privatised companies that supply him drinking water, electricity that gives light and make equipments to function! They privatised SNEC on the 2nd May 2008, SONEL on the 18th July 2001, CAMSUCO on the 22nd September 1998, CHOCOCAM on the 11th December 1995, HEVECAM on the 9th September 1996, REGIFERCAM on the 1st March 1999, CEPER on the 14th September 1998, BICEC on the 31st December 1999, CAMSHIP on the 13th February 1997, SOCAMAC on the 3rd October 1993, CDC on the 18th October 2002, SOCAM on the 19th December 1992...
In truth, if president Paul Biya in his younger age was not moving round the country to touch the suffering of his population with the finger and to intervene in an effective way to solve their problems, how more when he is already old and sick! The people who surround him want that he should stay in power because he is the tree which hides the forest; as such, they will continue to sign agreements to let in strangers in the country who exploit and will abusively exploit the richness of Cameroon, notably in the eastern region of the country, and as such, they will multiply their funds in bank accounts abroad, to witness a bright retirement in their second fatherland. In truth, in many of my writings that I have sent up to the presidency in Etoudi, I asked president Paul Biya to call all Cameroonians abroad and organise a national dialogue in order to rebuild a new Cameroon. In this option, he has to bring back remains of the body of late president Hamadou AHIDJO from Senegal, he should let out all prisoners who have embezzled public funds to give it back, without forgetting other embezzlers who are still in function, those who went for retirement and himself.
The money that will be given back in the cash boxes of the state will therefore serve for the investment in education, health, road infrastructures, the creation of big projects and companies in order to reduce the rate of unemployment, electricity supply and drinking water. In other words, the president of the republic has to review the constitution in order to limit the exercise of the functions of president to two mandates, the electoral code and to organise transparent elections. The national dialogue will permit the president and his collaborators to remain in the country in a big dignity even after the end of their functions, and the president can even remain as an adviser for the new president. Cameroonian leaders will also be safe from running away from the country like a rat in a hole which is followed by dogs. Look at these days where ATANGANA KOUNA former minister of water and energy who wanted to flee from the country, passing through Nigeria, but was caught and brought back in a plain like a pangolin which is caught alive and rolled up in a bag by the hunter.
What I write is for the good of Cameroonians, both in the spirit and in the physic, but if president Paul Biya and his government do not organise this dialogue, it will be better for them to leave Cameroon plundered of his richness like an orange that has been squeezed, than to leave it in a bloodshed.
CHAMPI Apostle not behalf of man, nor by a man but by Jesus Christ and God the Father. God's power is the knowledge. To know, avoid sin and to be free from the eternal death. (John 8/32)